Dit is de line-up van de Undercovertent!
gepubliceerd op
15 mei 2023
De beste artiesten van het land spelen muziek van de beste artiesten ter wereld. De Undercovertent is geen flauw bandjesfestijn waarbij afbreuk wordt gedaan aan muzikale klassiekers. Nee! Dit is een ware ode aan legendes. We gooien de zweetbandjes, vuurkanonnen, special effects, rare jasjes en brillen overboord. Hier krijg je muziek op zijn puurst.
Maak je op voor undercoversessies van Supertramp, Tom Petty and the Haertbrakers, Oasis, Jimi Hendrix, Electric Light Orchestra, System of a Down, Bruce Springsteen, Kate Bush, Beastie Boys, Queens of the Stone Age, David Bowie, Deep Purple, The Prodigy, Pink Floyd, André Hazes, Spice Girls, Meatloaf, ABBA en AC/DC.
Deze lekkere tributes worden gespeeld door artiesten uit bands als Navarone, Handsome Poets, Kovacs, Tangerine, The Cool Quest, Osdorp Posse, The Scene, BLØF, Birth of Joy, Iron Jinn, De Staat, Rudeboy, A Balladeer, Van Dik Hout, Jan Akkerman Band, Toontje Lager, VOF de Kunst, Edwin Evers Band, Typhoon, Money and the Man, Komodo, Miss Montreal en Bertolf.
Supertramp | Tom Petty and the Heartbreakers | Oasis | Jimi Hendrix | Electric Light Orchestra | System of a Down | Bruce Springsteen | Kate Bush | Beastie Boys | Queens of the Stone Age | David Bowie | Deep Purple | The Prodigy | Pink Floyd | André Hazes | Spice Girls | Meatloaf | ABBA | AC/DC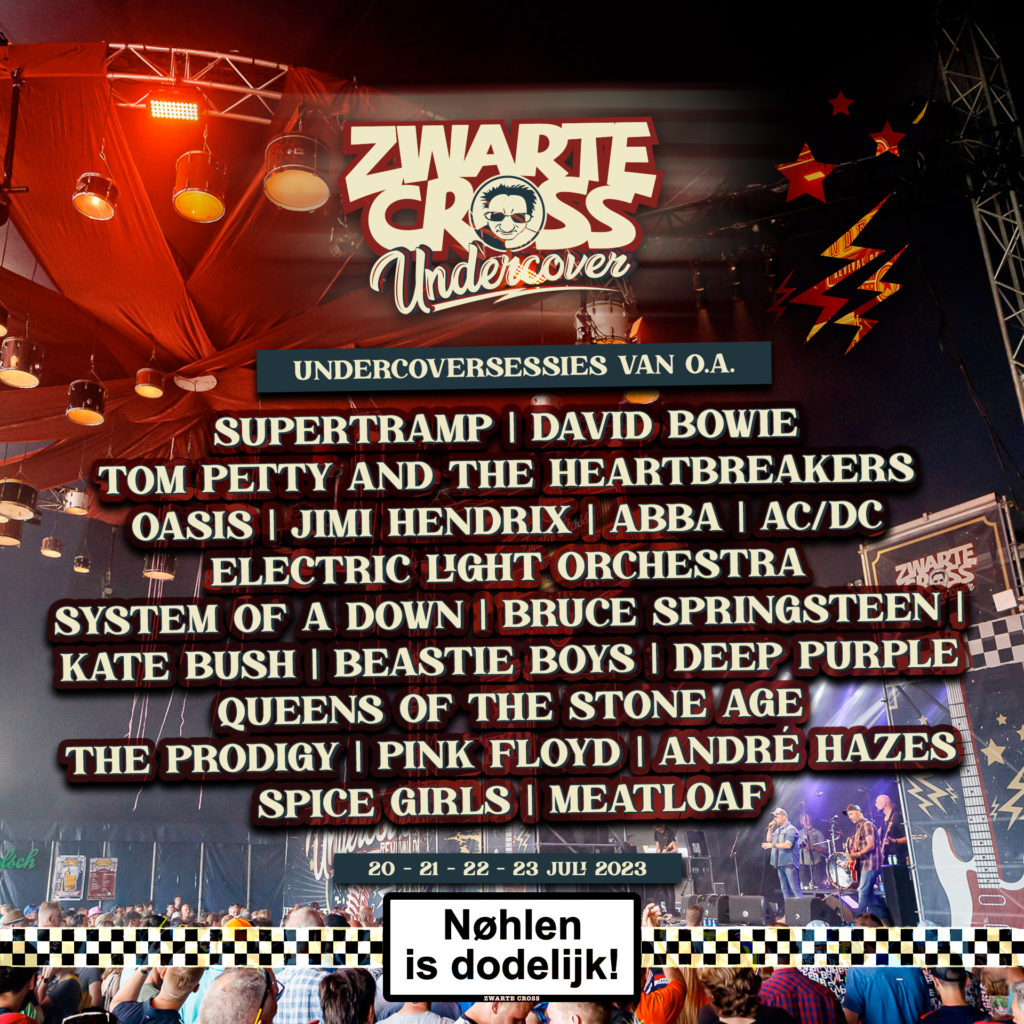 Eerder maakten we deze acts al bekend:
Snelle & de Lieve Jongens band | Daredevils | Five Dollar Shake | Spanjers, Dijsseldonk & Planteijd | Fire Horse | Jaap & Pim | DJ Thera| Lady Virea | Carlos Monsalve | Admiral Tibet (JM) | De Nachtwakers | Change The Mood | Schuurfeest | Fafi & Jofuro | Tin Wish Tin | Delany | Sarita Lorena | Bad Gyals Club | Cataleya | Josylvio | Lysah | Julia van Praag | P-Red | Rey de la Noche | Hollandse Drop | Pim Pam Pompen | The Raging Nathans (US) | Handkar Trio | Fritz & Danny | Alice Springs | Livin'Room | Tawny Brothers | Kerkdienst | Buurthuis de Uitlaat | Blijtanken | DJ Badmuts | Kitty's House of Curiosity | Hoe is het nu met… Tante Rikie! | Pé Daalemmer & Rooie Rinus | Spraaklab | Sonic Twins | Picto Facto | Theatergroep Hydra | Poelepetaten | De Bunzings | The Party Experience | BLØF | Davina Michelle | Drukwerk | John Coffey | Piraten Power Hour | Megatent DJ's | Jick Munro & The Amazing Laserbeams | Erik Neimeijer | Gangstagrass (US) | PRONK | Rogerson | La Fuente | Lady Bee | CRÜPO | Lone Ranger (JM) | Johnny Osbourne (JM) | Nusantara Beat | Modji | Loira Lux | Mara Wells | IMANI | LANNA, Glitter Eva en Djana | Lina Roza | Aerobic Funk | DJ Je Moeder | Zer00s Heroes | Fort Fiesta | Grade 2 (UK) | Private Function (AU) | The Young Ones | Geishas of Doom | Zanger Niley | The Travelin' Band | André Manuel | Frans Miggelbrink | Francien Regelink | Cursus ballet voor beginners | Theatergroep Matrose | Hoezo luste gij ginne koffie concert | De Leijer & De Leijer | De oversteekpolitie | Erik Dijkstra en de Zwarte Cross Talententuin | Emiel van der Logt | Klaas Prins | Roel C Verburg | Teun van den Elzen | Thijs Kemperink | Tom Sligting | Vincent Geers | Wilko Terwijn | Wouter Monden | Arie Koomen | Sweaty Disco | Cruise Control | Flikker | De Roze Jager | Mary Miracle | Coming Fout! | Tutti | DayDayGay | Babs | Nacht van de Powerballad | Goudsmit en Goudlokje | Glamourgirl | Pim Pam Pompen | The Ones That Got Away | Radio Wegbrand | Lesbique | MIAUW | Drikus en Dolores' Duistere Diskotheek | Queens of the Rodeo's Hootenanny | The Opposites | Miss Montreal | Bouke & The Elvis Matters Band | Mooi Wark | The Dirty Daddies | De Paloma's | Steffen Morrison | Black Djangos | Personal Trainer | CIEL (UK) | Superstrings | SUAT (UK) | De Nachtbrakers | Kevin Real | Samora (SU/NL) | Kenny B (SU/NL) | Mike Love (HI) | Santa Feria (CL) | Congo Cowboys (ZA) | Reanny | Noell3 | Bamba Wassoulou Groove (ML) | T Weeshuis presents: NEMS, Dave Nunes & Kingsta | Mike van Doorn | JANIK | Man Man Man Soundsystem | Sweaty Disco | Alle 13 Janken | Schuifmof Soundsystem | DE ROOIE JAGER | The Shivvies | Gitarencoalitie | Motorkontje | Def Americans | The Green Monkeys | Radio Barkas | The Boogie Kearls | The Porch People | The Ruggeds | Thijs Kemperink | Achterhoekse pubquiz | Jodelworkshop | Gijs Wilbrink | Badmeesters | Johnny & the Gangsters of Love | Triggerfinger (BE) | FLEMMING | BÖKKERS | Willy William (FR) | WC Experience | Cari Cari (AT) | The Mocks | Cloudsurfers | Anneke van Giersbergen | ABBA Fever | WeDamnz | Outsiders | Cynthia Spiering (gabber set) | Ky-Mani Marley (JM) | Splendid | The Sybians | Kees van Hondt | OOOSTBLOK | The Rumpled (IT) | DJ Middelkoop & Zn | Illmatic feat. Extince, Sherlock, Jane Doe & McGyver | CHO | Katnuf | Ton van Wenum | Mitch Wijnbergen | Darris | Phalcon | Loft Soundsystem | Nachtclub DJ's | Nashville Pussy (US) | Savage Beat | No Way | The Wetnecks | Koorbazen | De Jonge Boschfazant en Meindert Talma | Fanfare St. Leonardus | Schurkenbiefstuk | DIEP | Opblaasservice | De Stijle, Want | Halsband | Goldband | Rondé | Høken met de Heinoos | FeestDJRuud | Fragment (UK/NL) | Elephant | Michelle David & The True Tones (US/NL) | Ramkot (BE) | The Inspector Cluzo (FR) | Get Jealous | Senders | Laidback Luke | Ruffneck b2b Invite | Gladde Paling b2b Vieze Asbak | Roots Rising | EaZZuP | Avalanche Kaito (BF/BE) | M.CHUZI (BE) | Kolonel Djafaar (BE) | The Cool Quest | DJ DNS | Joshua J | Three Little Clouds | The Sha-La-Lee's (BE/NL) | The Courettes (BR/DK) | Teenage Bottlerocket (US) | Yentl en de Boer | Abel van Gijlswijk | Grof Geschud | Proces Verbaal | Hoe melkkoeien leren en hoe koeien groeten | Cie L'Homme debout (FR) | Kartje Kilo (BE) | René le Blanc | Kees Haak | Die Limburger Buben | Wijbrand van der Sande | Rasss Echt! | Die Riabig'n Tiroler | Wolfgang Saufi | Ruud Appelhof | DJ Elmo | Toeter Thijs | Die Lustigen Moeflons | Rosentaler | Hossa Hossa Hossa | Falsch & Verrückt | Die Apfelstrudel Oberkrainer | Die Isseltaler Musikanten | Tukkerbloazers | Die Reifholzkapelle | Antoon | Wolfmother (AU) | Maan | BZB | STEAM SISTER | STUK XXL | The Reverend Peyton's Big Damn Band (US) | Blackbird | Bacon Fat Louis | WIES | Skroetbalg | Hilltop Howlers | Sefa | Keys & Copper | The Ultimate Seduction | Darkraver b2b Promo | Kenyatta Hill (JM/NL) | Anthony John & Dreadless (JM/NL) | Shiwa & The Tuffsoundband (NL/SR) | Iconic Brass | K-Lito | Koko Kelly | Cavolo Nero | DJECK & THE MANDEM | Danjah | Nobu | Michael Jalink | Wouter van der Goes & Frank van 't Hof | ManoAmano Circo (AR) | Jones and Barnard (UK) | Rob & Emiel | Musical Ruth (UK) | Govert Schilling | Cie Super Super (FR) | De Gillende Keukenprins | MoNoMaN oNeMaNbaNd | Bastille (UK) | Eagles of Death Metal (US) | Son Mieux | Prins S. en de Geit | Boh Foi Toch | Shantel & Bucovina Club Orkestar (DE) | Henk Wijngaard & De Woudrukkers | Bob Wayne & The Outlaw Carnies (US) | Bintangs | Miller & The Tone Machine | Captain Kaiser (BE) | Kate Clover (US) | Tramhaus | Hang Youth | Miss Djax | EZG | Jones & Stephenson (BE) | Mr. Belt & Wezol | The Slackers (US) | Mahout (IT) | Boss Capone & Patsy | Bagjuice | Komodo | De Baron | Valvetronic | Goeiemiddag! | Major Turnoff | Heqwerk | Navadem | Vieze Vedi & Stefano van Stefano's | Jeroen Antoine | Coming Fout! | Man Man Man de Podcast | Lavinia Meijer | Magic Tom & Yuri | Hans Dorrestijn | Mariachi Los Tarascos (BE) | Martijn Koning | De Gestampte Meisjes
Naar het programma
Heb je vragen van huishoudelijke aard of over je tickets? Check dan onze FAQ. #
Tot op de Zwarte Cross! | 20 – 21 – 22 – 23 juli 2023 | Nøhlen Is Dodelijk